Our cats and kittens are cherished members of our family. They are raised in our home, not in cages, with lots of love and attention, living a very pampered life.
I screen for people who will value the kitten as a cherished family member, and who are financially able to care for it for the rest of its life. I also take considerable time and effort to breed for the sweet personality. I continue to stay informed in the latest feline care and my breeders are gene tested for the Birman specific diseases. Before they leave our care and home we make sure they are well potty trained and socialized.
We raise our Birman kittens in a natural way, as holistically as we are able, and with much love and care. As we do things very differently from other breeders, we have a requirement that our new Kitten owners at least be interested in making an effort to keep their new kitten in a natural way.
While I realise that people will make their own decisions once they get their new kitten home, I try to place my Birman Kittens where I believe that they will have the best possible chance for long and healthy lives.
My Birman Kittens are available from around 4 month old, depending on each individual kittens growth and personality. They are Vet Certified (written health guarantee), de-sexed (this is not negotiable), registered & pedigreed with Tica Cats. Kittens are also completely potty trained, flea and worm free, and microchipped.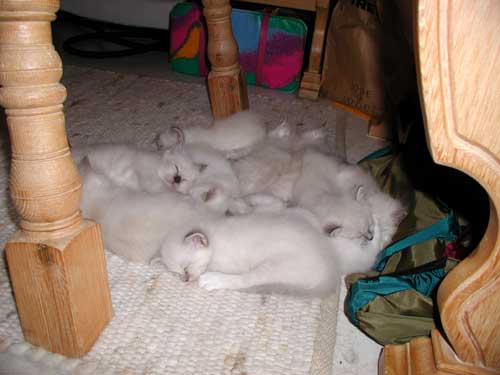 If you are interested in purchasing a Birman kitten with breeding rights, please continue to read the page
Birmans with breeding rights.
PRIOR to any inquiry, please make also sure you visit my Kittyhealth experience website about cat health, in particular the
vaccinations
page and think about it once again. For more information about holistic cat treatments please browse through my website
Kittyhealth Experience.
I have also created a group on Mewe for natural holistic treatment for cats only. Feel free to join.

Visits are made by appointment to approved parties only, who are interested in one of the Birman kittens or Birman Cats listed as available on the
For Adoption/Sale
page.
No persons are allowed to browse our cattery unless they have a serious interest in one of our kittens.
PLEASE NOTE:
The below points are firm, so if this does not suit you, please do not inquire.

I do not schedule casual, "just looking" visits. We are not a department store! I only have visits for people who are going to take one of the kittens or cats that I have available.


You need to let me know in which kitten you are interested in upon inquiry. I am usually able to take more photos and videos of a kitten to email upon request, to approved inquirers. And long chats on the phone about the kitten/cat are very welcome. I give as much information as you need.


You are able to spend as long as you want here with the kitten on pick-up day, and having a chat. And of course, if you do not like the kitten when you see him or her in person, then you are absolutely under no obligation at all. I do not have a waiting list and don't require a deposit. We reserve the right to refuse the sale of any kitten at any time to any person. Sales are 100% at our discretion!


It is highly important to me that both the kitten and the new owners are happy. If you are unhappy in any way, you may return the kitten within two weeks for a refund after consultation with us.


If you are considering a Birman from us, you will need to have another pet in your home. Birmans will become extremely lonely if they do not have a constant companion. Another cat or even a dog will satisfy them. However, depending on the personality of the kitten, we prefer to place our babies to a cat companion.


I don't ship kittens to unknown people or strangers !


You agree to keep the kitty indoor only.


DECLAWING is strictly PROHIBITED !


Our pet kittens are priced at $ 1,500.
Should you consider a kitten boy or a kitten girl? As a general rule of thumb, boys do tend on the whole to be more cuddly and affectionate than girls, although they are of course, all individuals, so it varies from cat to cat.
If you already have a female cat, it is safest to choose a male kitten/cat as sometimes a female will object to another female invading her territory, and this may cause ongoing dramas.